THE HOUSE OF WILD DELIGHTS #32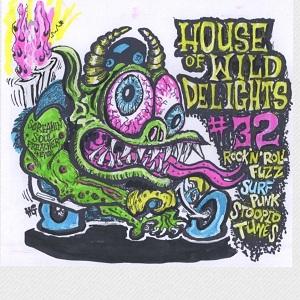 (Boss artwork by Boss H.G.)
OK. Let's put it right : Would you like to party with vicious apes, sleazy slashers, dangerous loonies, dead idiots, undead Indians and a loud wicked drunken pseudo-Preacher from Hell or elsewhere ?
Especially if they were in fact all "living" in the same one and only person ?
Uh !?! Are you still around ?
Well...I guess you're ready to enter The House of Wild Delights then.
Welcome...
This is The House of Wild Delights episode 32 on GaragePunk Pirate Radio, with your host : The screamin' Soul Preacher.
The House of Wild Delights #32 by Thescreaminsoulpreacher on Mixcloud
DOWNLOAD / SUBSCRIBE TO THE HOUSE OF WILD DELIGHTS
SUBSCRIBE TO GARAGEPUNK PIRATE RADIO
Eternal thanks to H.G. for the boss artwork !
More art and sick things around THERE !
And even THERE !!!
Don't forget to check the HAUNTED SHACK THEATER, the best podcast ever !
Thanks to all the great bands I've played. Check the playlist in the comments, buy their records, go to their gigs, sleep with them even if they're dead, do whatever but support them !!!
Thanks for listening !!!
Aaaaah...feeling sick now...gotta go...
Check the playlist in comments,
Go fuck plague infected Rodents...