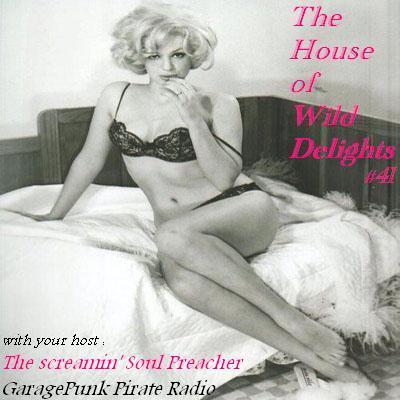 The House of Wild Delights #41
The House of Wild Delights #41 on GaragePunk Pirate Radio, with your devoted host : The screamin' Soul Preacher !
A storming hour of broken-hearted teenage garage beat, hot sex-starving rockabilly cats and old sour roosters in robe !!!
Do you really think you're ready for this ?
The House of Wild Delights #41 by Thescreaminsoulpreacher on Mixcloud
DOWNLOAD and get shattered...
SUBSCRIBE TO GARAGEPUNK PIRATE RADIO
SUBSCRIBE TO THE HOUSE OF WILD DELIGHTS
Thanks to all the bands and labels involved.
Extra thanks to The Teamsters, Jeremiah from the Revelators, John Schooley and Walter Daniels (you can get their brand new lp together there...or elsewhere).
Extra super thanks to The Mobbs, The Cheating Hearts, Thee Tsunamis and Orange Rooftops.
Playlist in the comments,
Preacher looses his pants.
Thanks for listening.