BIBLIODISCOTEQUE
HOSTED BY ERIK ON GARAGEPUNK PIRATE RADIO!


THIS ISLAND SURF
HOSTED BY DJ MORTON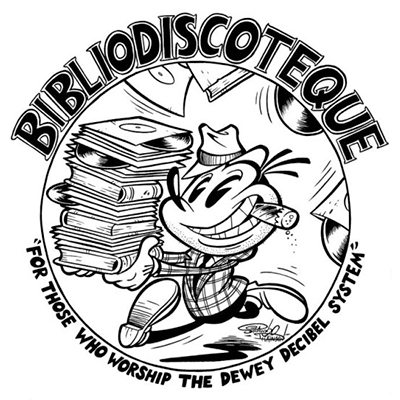 This is the Novel Sound!
Bibliodiscoteque treats the low-brow world of outlaw authors, comic creators, rock'n'roll rebels, blues troubadours, and trash collectors, as high-brow. This is the noise of the cool kids and the savage intellectual: Those unafraid of pushing the limits of their taste and calling bullshit on the polished turds of the mainstream. A jukebox for those who live in page margins and comic panels and the space between guitar chords: This is the novel sound.
In 2010, Bibliodiscoteque began, as Cab Calloway once said, "to put the world on the streets." We live in an age of miracle and wonder. Within a few deft key strokes we can access the world's knowledge, read volumes of underground artists unable to find publishing homes, and hear the rawest and most fledgling bands strike their first chords. There are thousands of stories to tell and Bibliodiscoteque wants you to hear as many as you can. We want to crank up the decibel on those artists whose passion outweighs their sales figures.
Each month a different author, novel, or comic is plucked from the libraries of the world (sometimes by the crew at Bibliodiscoteque World Headquarters, other times by request from our erudite audience) and given a soundtrack meant as a love song to the text. It is our hope that fans of the author hear new music and fans of the music discover an author.
Each month we fight a battle against the mundane and dam the slop of mainstream culture. We are fed prepackaged meals from agents of the banal and shunned when we find it hard to swallow. Bibliodiscophiles are a learned and brilliant lot. We demand to think on our own, to dig for the treasures in a culture piled over with the commonplace, and make this lifetime weirder for everyone. As many have said before, "Words are our weapons."

Fresh from the sea comes DJ MORTON and THIS ISLAND SURF. An hour of surf, rockabilly, soul, and ska, to help fuel your tiki bar. Unlock you liquer cabinet, grab some friends, and dance, dance, dance.

Welcome aboard. Welcome to the Dewey Decibel System. Welcome to the Novel Sound!
EPISODES/PLAYLISTS | SUBSCRIBE | SUBSCRIBE TO ALL | WEBSITE | FACEBOOK | TWITTER
This Island Surf 4: Quint's Revenge! by Bibliodiscoteque on Mixcloud