Thank you Ghislaine Korb for the update on the continuing story that is Russia's Pussy Riot. According to the Observer, "two of [the] alleged members [who] face up to seven years in jail for a 'punk prayer' they staged in Moscow's main cathedral, have received unexpected backing from a group of Orthodox Christians who say they are being too harshly punished."
Interesting that the arrests came only after a perceived insult to the church. Looks like Mr. Putin continues to take his Christian values VERY seriously at the expense of democratic values. The mind reels thinking of the irony at play in this story.
For more regarding the ongoing Pussy Riot saga, see previous Old Punk On Hope blog entries. We should all worry when the women start getting arrested, according to a previous story about Pussy Riot.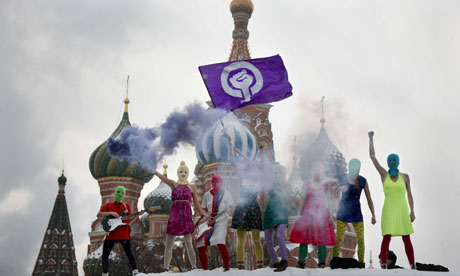 Pussy Riot - Moscow