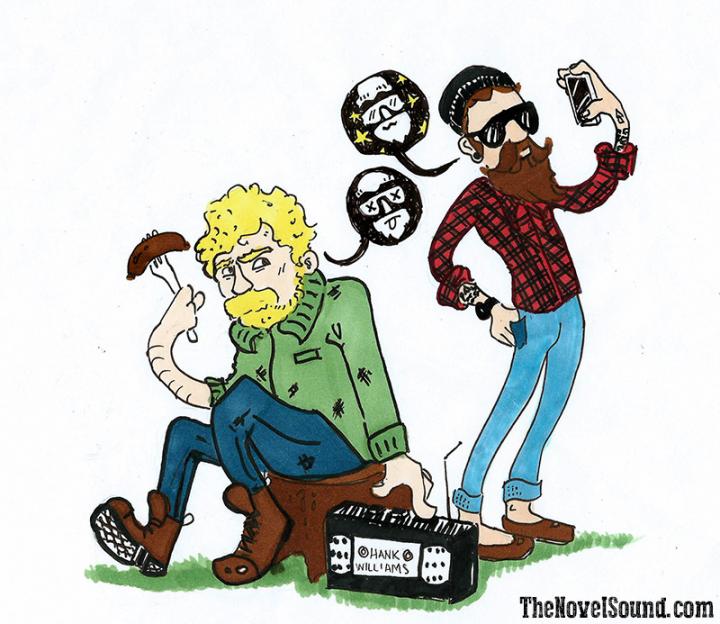 Sure, most of us can't see the forest through the cities. There are, however, certain urban explorers enveloped in plaid, coifed in wool, and sporting well-manscaped facial hair, who have never held an axe or stacked a cord of wood to get ready for winter. Regardless of their deep forest credentials, they do look great in their REI boots and polypropylene undershirts. Certainly, there are those nu-men who hand-build oak coffee tables, reconstruct antique cuckoo clocks, and maintain start-of-the-art moonshine stills, but there are still plenty more who don't know a Woodsy from a Smokey or how to work a tenon cutter.
Are you man enough to take this oath?
So pour yourself a whiskey, stick some McClelland's #2015 Virginia Flake and Perique in your best L'Anatra pipe, sit on your stone wall, and take in the best songs for the lumberchic*.
*I prefer the term Lumberchic. It sounds a great deal less like people who find themselves aroused by logs.
10. Choppin' Wood – Van Morrison
"The mass of men lead lives of quiet desperation. What is called resignation is confirmed desperation. From the desperate city you go into the desperate country, and have to console yourself with the bravery of minks and muskrats." Van Morrison quotes Transcendentalist Thoreau in this song about a man who retreats from the city to the country to escape it all and chop some wood.
9. Immigrant Song – Led Zeppelin
Ah, the Vikings…men with beards to rival their gods. A true lumberjack dreams of Valhalla.
8. My Tennessee Mountain Home – Dolly Parton
Country music genius and powerhouse, Dolly Parton, sings of the antediluvian beauty of Tennessee. Of course, if the pastoral South is too much, head over to Dollywood where you can experience "Lumberjack Lifts" a ride which insists, "You … to be as strong as an ox to power the Lumberjack Lifts at Dollywood. Two 30-foot towers await passengers who can pull the ropes lifting the cars upwards of 25 feet in the air. Take in the breathtaking views once at the top or, if you dare, release the secured cable for an exciting free fall." If this isn't a test of your manly worth, not much else is.
7. Mannish Boy – Muddy Waters
For every bearded Northfaced lumbersexual juggling a Starbucks pumpkin-spice latte and walking down a crowded city street in deep-blue skinny jeans – This is your jam.
Pray to your god of lumber
6. Remember the Mountain Bed – Wilco and Billy Bragg
Written by Woody Guthrie and performed by indie figureheads, this is a song for sitting in homemade rocking chairs, enjoying a pack of American Spirit Yellows, and the petting the latest in socially approved canine companions.
5. Harvest Moon – Neil Young
A love song for rugged and stoic men.
4. Rocky Mountain Way – Joe Walsh
"Spent the last year, Rocky Mountain way / Couldn't get much higher / Out to pasture, think its safe to say…" I Instagram(med) the entire experience…got a few dozen 'likes'.
3. Mountain Woman – The Kinks
From the Americana inspired Muswell Hillbillies album, the Davies Brothers coin another beautiful song about the 'uneducated but happy' little people losing out to Big Corporations and the 20th century.
2. Country Road – John Denver
All irony and cynicism aside, there was a time when John Denver walked the earth like a bespectacled god of 1970's manliness. He was unafraid to shed a tear over the rugged lands of the rural America. Are you?
1. Local Boy Chops Wood – Donovan
You can pat yourself on the back…you own an axe. You're a rebel romantic.
I'm preparing my set list for the upcoming Naval look – Seamensexuals.
Editor's Note:
Before you get all huffy and think I missed the obvious, no I didn't forget Monty Python's Lumberjack song. It was simply low-hanging fruit and way too easy.
Special thanks to the lovely Mrs. Hannah T and Ron Effinrules for the assist.
Rage Well!