The House of Wild Delights #46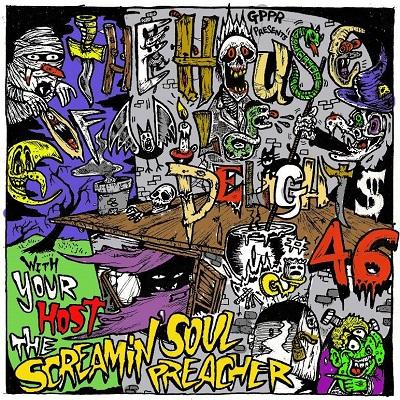 Artwork by Joe Kolessides.
Better watch out for the bats it's…The House of Wild Delights #46 onGaragePunk Pirate Radio with your flappin' host : The screechin' Ghoul Preacher.
DOWNLOAD / SUBSCRIBE TO GPPR / SUBSCRIBE TO THE HOWD.
The House of Wild Delights #46 by Thescreaminsoulpreacher on Mixcloud
Playlist :
Loupgarou- Wizzard Sleeve
The Psychedelic Cemetary- Haunted George
The Morgus Creep- The Daringers
Creature's Crawl- Thee Cormans
Ghost Train- The Swanks
Ghost Guitars- Baron Daemon
Dracula- Zane Brothers
Dracula- Christine Pilzer
Voices Green And Purple- The Bees
Anxious Colour- Painted Faces
Bed : Lonely Before Dawn- Night People
Ghost Power- The Cords
Channel 13 Is Haunted- The Hex Dispensers
Satan's Little Pet Pig- Demon's Claws
Haunted Hill- Bassholes
Cementerio- Los Saicos
Zombie Dance- The Cramps
Count Dracula- The Rockin' Continentals
Halloween- Ron Haydock
Satan Is Her Name- Steve King
Swinging On A Chandelier- Bobby Beck
Bucket O' Blood- Big Boy Groves
The Skeleton Fight- Mack Allen Smith
Do The Zombie- The Symbols
Bed : Fright- B. Brock & The Vibratos
I Was A Teenage Brain Surgeon- Jack The Ripper
Thanks for listening.