Rerun Records is back with releases by three 70s-80s Milwaukee, WI bands! See info below...
Ordering info and audio samples at: www.RerunRecordsSTL.com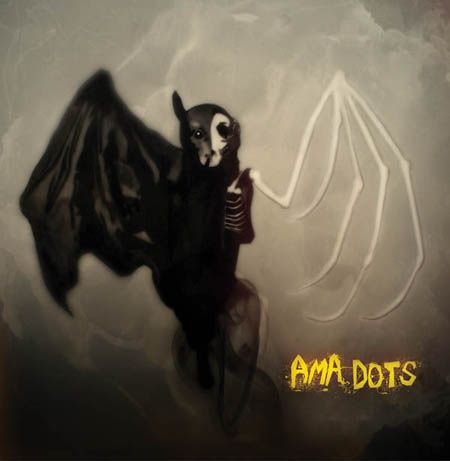 AMA-DOTS
s/t LP (RERUN #016)
Formed in the late 70's, Ama-dots pushed the Punk ethos to a decidedly irreverent, twisted and experimental sound. At times leaning into Pop ("Hit Girls") and others decidedly angry and mean ("Strange Brute") Ama-dots had a way of surprising the listener without being aimless or "weird-for-weird's sake".
Releasing "Hit Girls" on their own Hunky Recs in 1980 the song became a battle cry, striking a chord with female Punk patrons. At this time Punk and anything close to feminist empowerment had only been uttered by The Raincoats and The Slits. The major reason most listeners heard of the later is that they were based out of London and, as much as Milwaukee had a vibrant Punk scene, it was not known as a musical mecca.
Touring extensively through the Midwest and the South they hit the legendary clubs in NYC before reaching into Canada. They opened for the likes of Captain Beefheart, Sun Ra, Gang Of Four, Talking Heads and several other diverse and noteworthy acts.
Striking a deal with Chicago's Autistic Records they were produced by Iain Burgess, regarded as instrumental in shaping the Chicago Post-Punk sound with Big Black, Ministry, Effigies and more. Burgess brought the dark, aggressiveness out while not limiting the quirks, kinks and perverse sense of humor.
Autistic imploded and so sat their work with Burgess making the self released single highly sought after within collector circles.
This is the first time their work with Burgess as well as other local notables, including the late Dennis Flemion (The Frogs) has been publicly available.
This limited edition is pressed on gold marbled vinyl and includes an 11" X 17" insert with rare photos and written accounts by writers, fans and critics including a first person account of a harrowing gig in Toronto.
and another...
THE LUBRICANTS
"Activated Energy" b/w "Transformation Vacation" 7" (RERUN #023)
Milwaukee, WI always seemed to be ahead of the curve when it came to great music, especially with the proto-punk/art/noise-rock bands that morphed into just about every cool or at least noteworthy '77-'83 indie band in town. The Lubricants were no exception and one of the best of the bunch. They formed at the Dawn of Punk and were the most ferocious band in town. They went through multiple line-up changes, but it all centered around founder and mastermind Leroy Buth. In 1980, they booked time at A.T.A. Studios in Chicago and cut the "Activated Energy" b/w "Transformation Vacation" 45. Two killer Punk sides with perfectly in-the-red production. Both songs ooze some of the most searing guitar leads committed to vinyl since Raw Power. The record came out on their own Relative Records that same year. It was the only release during the Lubricants original run. The original single has been very tough to find and fetching big money for years. In the late '90s, the inclusion of "Activated Energy" on a volume of the bootleg compilation series Killed By Death and a poorly done counterfeit pressing drew even more demand for the record. A collection of Lubricants studio material was self released by the band on CD, which also appeared as a very limited vinyl pressing out of Italy.
Rerun presents a high quality reissue of this Milwaukee Punk classic in a limited pressing of 500 copies on thick, black vinyl. The audio has been remastered and it comes in a glued pocket sleeve with a double sided insert including rare photos and ephemera plus liner notes by Glenn Rehse of Plasticland.
and another...
THE ONES
The Ones 7"+CD set (RERUN #021) or The Ones CD (REURUN #022)
Ozone was started in 1975 by a couple of high school kids from the Northwest side of Milwaukee, WI. They were the hardest rockin' teenage band in town, playing full sets of original material in the vein of their musical heroes the Stooges, KISS and AC/DC to packed high school parties and teen dances. When they heard the Ramones debut in 1976, Ozone settled into a solid Punk ROCK sound. With no chance for a band like them to get signed, especially in Milwaukee, there were no pretentions. Just informed meat n' potatoes rock n' roll, sans any boogie or bar-band licks. After a finding the perfect line up and a couple more years of extensive rehearsal, gigs and song writing, dedication paid off and they smashed the competition at a big-time battle of area bands in late 1979. Part of the grand prize package was studio time and the release of a 45rpm single. Still called Ozone up until that point, a name change was necessary when they learned of an established group using the same moniker. The "Short Dress" b/w "Tightrope" 45 was released in 1980 on Blue Ribbon Records under their new name, The Ones. Both sides are blazing Punk n' Roll but with little to no distribution or promotion, hardly anybody noticed it at the time. Being issued without a picture sleeve didn't help matters. Copies seemed to disappear from sight along with the band, making it one of the rarest and most sought after 45s from any Wisconsin band ever. Copies have changed hands for upwards of $800 online. "Tightrope" was later bootlegged on the Staring Down the Barrel comp LP, making demand even greater. The Ones folded shortly after the record was issued when band leader and driving force Clancy Carroll decided to change musical directions. He would go on to form the much-loved garage/punk/pop band the Dominoes with ex-Haskels guitarist Gerard LaValliere and continue to play in area indie bands through the '90s.
Originally intended to be two separate releases, we've decided to package them together as The Ones SET to make sure all you vinyl-only folks got to hear the great unreleased material on the CD. The set includes the CD (in a standard jewel case), limited 7" and two 1" pin-back buttons with the Ones and Ozone logos. The set comes packaged as one unit in a 7" sized, flapped poly bag. The CD is also available separately.
"Short Dress" b/w "Tightrope" 7" RECORD (RERUN #021)
A newly remastered vinyl reissue of the nearly impossible to find "Short Dress" b/w "Tightrope" 45 from 1980 in a limited pressing of 500 copies on thick, black vinyl. It comes in a full-color glued pocket sleeve with an insert featuring liner notes by band leader Clancy Carroll and previously unpublished photos. Available only as part of the Ones SET with the CD and two buttons.
THE ONES-The Ones 5" COMPACT DISC (RERUN #022)
18 tracks and over an hour of blazing Punk n' Roll on the increasingly unpopular CD format. This packed to the gills CD collects the "Short Dress" b/w "Tightrope" 45 along with unreleased studio demos plus rehearsal and live recordings from 1978-1980. The 12-panel fold-out insert features extensive liner notes by band leader Clancy Carroll along with oodles of unpublished photos and ephemera. Audio remastered by Chuck Warner and co-released with his Hyped To Death Records.