Untitled
Djapango Shoots First strikes again with his second DVD release in the
SEX and FURY and ROCK 'N' ROLL
video series. This one captures the savagery of the JET BOYS, the sugar-coated 60's pop of THE PEBBLES well as the black leather neo-biker punks HELL RACER featuring Eddie Legend (formerly of the 5678's and MAD3). Representing the new blood of Tokyo's Back from the Grave scene are THE FADEAWAYS, BAIT ONES, THEEE BAT and THE FLY & MISS TARANTULA! It's a carnival of fuzz, flesh and fury!

http://www.pacifictionrecords.com/japan/CD/VA_sexfury00DVD.shtml
Also, take a gander at this WOW-inducing cover art by Onoching!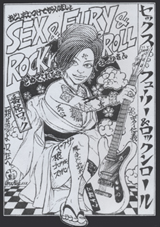 It's a detailed deprecation taken from the original pinky violence film, Sex and Fury!
And don't forget to take a look at the first
SEX and FURY and ROCK 'N' ROLL
!

http://www.pacifictionrecords.com/japan/CD/VA_sexfuryDVD.shtml