Untitled
"Cheap Beer & BBQ Radio" is an hour-long podcast coming to Real Punk Radio, hosted by me. Some of you may remember me from "40 Oz. Nonsense", and it's my hope that this new show will be much better. Expect to hear lots of garage, surf, and trashy rock 'n' roll...
Here's the playlist for the first episode:
Satan's Pilgrims-"El Rey"
Bantam Rooster-"Miss Luxury"
The Makers-"Razorblade"
The Omens-"Searching"
The Loved Ones-"Surprise Surprise"
The Inmates-"You Tell Lies"
Eddie Angel-"Thunder"
The Cynics-"Business As Usual"
The Raunch Hands-"Never Comin' Home"
The Delmonas-"I Feel Alright"
The Agenda!-"I Want the Panic!"
Flipper-"Living For the Depression"
The El Caminos-"Reverb Explosion Pt. 1"
The Treytones-"Nonymous"
The Shandels-"Caroline"
The Vydels-"What I'm Gonna Do"
The Puddin' Heads-"Now You Say We're Through"
The Kaisers-"Watch Your Step"
Jon & the Nightriders-"Fuel Injected"
Yes Mistress!-"Gunna Get Arrested"
The Spastic Hearts-"Gimme Gimme"
The Phonocaptors-"Fool Around"
The Fresas-"I Heart Senior Citizens"
Elton Motello-"Jet Boy Jet Girl"
DOWNLOAD I MIXCLOUD I FACEBOOK
Cheap Beer & BBQ Radio #1 by Joeyfukup on Mixcloud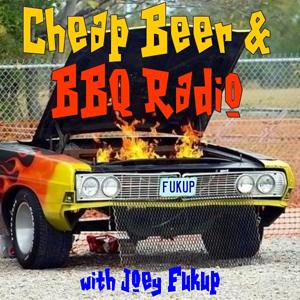 This post was edited by køpper at May 25, 2014 11:00 AM CDT