Untitled
Well, this sucks. Fuck YouTube:
From http://www.theguardian.com/technology/2014/jun/17/youtube-indie-labels-music-subscription
YouTube to block indie labels who don't sign up to new music service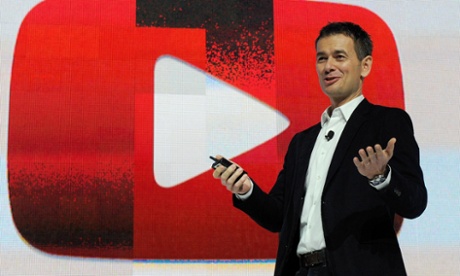 YouTube's Robert Kyncl on licensing: 'While we wish that we had 100 per cent success rate, we understand that is not likely an achievable goal'. Photograph: Ethan Miller/Getty Images
Adele, Arctic Monkeys and Jack White could disappear from YouTube "in a matter of days" after the Google video service confirmed it was dropping content from independent labels that have not signed up for its upcoming subscription music service.
YouTube is about to begin testing the new service – which will charge people to watch and listen to music without ads, and download songs to their mobile devices – within the next few days, initially within Google.
The company's head of content and business operations, Robert Kyncl, told the Financial Times that the service – previously rumoured to be called YouTube Music Pass – will launch more widely later in the year.
His confirmation that YouTube will block videos from labels that do not sign licensing deals for the new premium tier will be hugely controversial among indie labels, with trade body WIN already filing a complaint to the European Commission about its negotiating strategy.
"While we wish that we had 100% success rate, we understand that is not likely an achievable goal and therefore it is our responsibility to our users and the industry to launch the enhanced music experience," said Kyncl, claiming that YouTube has signed up labels representing 90% of the music industry.
Independent labels are likely to disagree. Their licensing agency Merlin estimates that indies collectively account for a 32.6% market share of the recorded music industry's sales and streams.
Contacted by The Guardian following his comments, WIN's chief executive Alison Wenham was blunt in her response. "They have suffered a simple but catastrophic error of judgement in misreading the market," said Wenham, who had organised a press conference earlier in the month to protest at YouTube's plans.
WIN claims that the company has signed lucrative licensing deals with major labels Universal, Warner and Sony, while demanding that independent labels sign up to inferior terms or face having their videos blocked from YouTube's free service.
"Our goal is to continue making YouTube an amazing music experience, both as a global platform for fans and artists to connect, and as a revenue source for the music industry," a Google spokesman said. He said the subscription-based service would bring new revenue streams "in addition to the hundreds of millions of dollars YouTube already generates for them each year. We are excited that hundreds of major and independent labels are already partnering with us."
Wenham's criticism echoes a claim made at the event by musician Billy Bragg, who said "I don't know why they've opened this hornet's nest right now, apart from corporate hubris. I don't think they realise what a stupid thing they've done."
The site has become a key promotional outlet for independent labels of all sizes in recent years.
YouTube attracts more than 1bn monthly viewers, with music one of its biggest categories. Its upcoming premium music subscription tier will compete with Spotify, Deezer and Napster among other services, including Apple-owned Beats Music and Google's own Google Play Music All Access.
Independent labels have long complained that they deserve more respect from digital music services negotiating licensing deals, and set up Merlin to strike deals on their behalf.
The agency has remained silent throughout the recent arguments about YouTube's planned new service, although its chief executive Charles Caldas criticised the company at an industry conference in late April.
Referring to an earlier quote from Bragg suggesting that musicians unhappy about royalties paid by Spotify should be "marching to YouTube central with flaming pitchforks", Caldas said: "I can't say Billy's right, but I can say that he's not wrong."
The move comes as Amazon too has begun to flex its muscles in ways that limit the content its customers can receive. Amazon is delaying shipments and refused pre-orders for some titles from Hachette, publisher of Harry Potter author JK Rowling, and home to David Baldacci, Stephen Colbert, David Foster Wallace and others.
It has also pulled pre-orders for forthcoming Warner Home Video features, including international blockbuster The Lego Movie, 300: Rise of an Empire, Winter's Tale and Transcendence.
• YouTube accused of strong-arming indie labels into poor deals
This post was edited by køpper at June 17, 2014 9:33 AM CDT
____________________________________
"Go read a book and flunk a test." -Iggy
Listen to SHOCK THERAPY on RADIO MUTATION if ya know what's good bad for ya!